This one seems to be the topic of the moment: screen casting software.  A lot has been said lately on this topic (for some great discussion on the merits of various products and their uses, take a look at Michele Martin's Bamboo Project and Sue Waters' Mobile Technology in TAFE). 
If so much is being said, why am I jumping in here?  Simple really – graphic work is something that I am reasonably comfortable with – not so much the video side of things, but I am not totally without experience.  Finally!! I am not the total novice.
The other reason that I am jumping in here is that the aim of this series of posts is to look at products that I hope to implement.  Screen casting is one that I have already used (albeit only in the last two or three days). 
So what am I using?  I started with Auto Screen Recorder, but jumped from there to CamStudio, which I really liked: it is simple to use and produces a quality product (and as an added bonus, it is free).  Last week Leonard Low posted on his mobile learning blog that tech smith were offering Camtasia Studio 3.1.3 for free, so of course I jumped in had a go of that as well.
Now I have to say that I love it!  It is a little more involved than CamStudio, but if you have a passing familiarity with MovieMaker, then the edit feature will present very little issue and a little experimentation will see you well on the way.  This is also where Camtasia has an edge over CamStudio: the ability to edit within the package.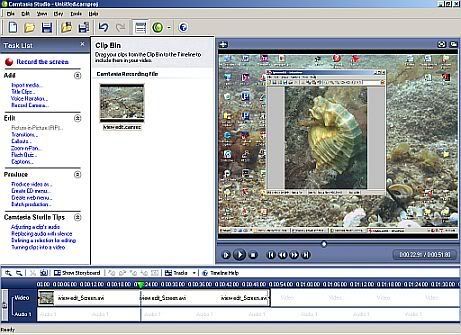 Using Camtasia for the first time, in under half an hour I had produced a 50 second video, with text annotations that will replace a seven page "how to" document. 
I may have become a little enamoured with this product: over the course of the day, on top of the day-to-day routine, I put together three other quick videos; another "how to" and two for a demonstration next week where I am not sure I will have internet connection.   The following are the demonstartion videos – apologies for the poor quality, but in the interests of download time, they have been saved in .wma format (smaller file size than .avi), but they will give the general idea.
 baccarat interaction example 1
[kml_flashembed movie="http://video.google.com/googleplayer.swf?docid=-884046037794249400" width="400" height="326" wmode="transparent" /]
baccarat interaction example 2
[kml_flashembed movie="http://video.google.com/googleplayer.swf?docid=2037991333124930290" width="400" height="326" wmode="transparent" /]
If truth be told, I have spent a fair amount of time looking for other videos that I can make.
Definitely having a little too much fun here.
edited 4th Dec 2007: video upload.